Do you know that there are as many crazy college scholarships as there are crazy college students? Scour the internet long enough and you're bound to find an organization offering a scholarship that involves neither athletic ability nor intelligence. Some requirements are niche-oriented while others are rather esoteric.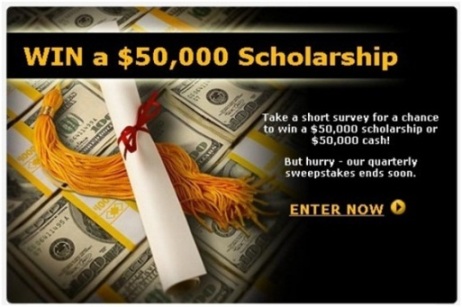 Below are some examples of crazy college scholarships:
Scholarships Based on One's Physique
If you're tall and can't get a scholarship by playing basketball, try getting one with the Tall Clubs International. You might just get a $1,000 grant. Suffering from dwarfism? Don't let your diminutive stature bring you down. The Little People of America have been sending deserving, but under-privileged students with dwarfism to colleges and universities for years. Are you a lefty? Then use this advantage by applying for the Frederick and Mary F. Beckley Scholarship. Their criteria for choosing scholars is that they have to be left-handed.
Agriculture Related Scholarships
Agriculture is not just to feed the body, but it is also helpful for one to go to college. Where to begin? There are different scholarships for you! Apply for the National Potato Council Scholarship, the Minnesota Soy Bean Scholarship, the Asparagus Club Scholarship, and many more. If you specialize in any of these produce items, then there's a good chance that your college education will be for free.
Special Skills Scholarships
You don't have to be smart or athletic, you only need the talent and skills to qualify for a scholarship that will aid you in college. Many organizations recognize this fact and reward students who can display a knack for certain things that most regular folks can't do.
There's a society that grants scholarships to kids who play marbles well (National Marbles Tournament Scholarship). If you have the gift to look into the future then the Excellence in Predicting the Future Award could be your ticket to a higher education.Here's more: If you're a duck whisperer then you can join the Sophie Major Duck Calling Contest Scholarship.
Industrial Tools and Equipment Scholarship
Here are some more crazy scholarships for college.
The Duck Brand Stuck at Prom Scholarship contest. This contest gives the prize of a scholarship to a prom couple who can come up with the best prom dress using only duct tape. You can try the Society of Vacuum Coaters Scholarship, but only if you understand how vacuum coating works (and we doubt that most of you do).
Perhaps the easiest one of all is the American Fire Sprinkler Association Scholarship. Applicants just have to answer a 10 item open-book exam about sprinklers (now how can you go wrong with this?).
The Weird Scholarships
Sometimes it just pays to have Gatling or Gatlin as a last name because the John Gatling Scholarship will only award you tuition money if you bear that surname. Are you a sci-fi fanatic? Then take advantage of the L. Ron Hubbard Writers of the Future scholarship or the KLI Memorial Award (for those of you who can speak Klingon).You can also try the American Nudist Research Library Research Scholarship. Go ahead and Google this and see the naked truth about the scholarship they are offering.
It's fun to learn about these crazy college scholarships. They may sound crazy, but they are your easy ticket to college.Who knows, maybe one of these crazy college scholarships is the opportunity you have been waiting for.